Canyoneering – Experience the Excitement
Canyoneering is an exciting adventure sport that involves the exploration of canyons using a variety of techniques that include hiking, scrambling, climbing, sliding, wading, swimming and rappelling (often over spectacular waterfalls).
Imagine extreme hiking …
with a harness, a helmet, rope and other technical gear. Think something like climbing in reverse. Instead of ascending a mountain you are descending a canyon. It's like recess for adults where muscles you forgot existed get sore. Canyoneering is the intimate exploration of forgotten Earth. It is poetry in movement.
Have fun. Be safe.
Mitigating risk with knowledge and skills.
The term "canyoneering" is used primarily in the United States and areas of the world influenced by U.S. instructors and traveling canyoneers. In other parts of the world the term "canyoning" is used. Some have suggested that canyoneering should be used in reference to dry and semi-dry canyons, like those found in Utah and Arizona, and the term canyoning should be used in reference to swiftwater canyons. But the debate is purely academic. Call it what you want; just get out there and have some fun.
Canyoneering is not a new sport; it has been around for many many years. It has, however, enjoyed a tremendous surge in popularity over the past two decades. Unfortunately, many of the people who are discovering this exciting sport remain unaware of the inherent risks and the complex technical skills required to enjoy it safely. The rope skills learned from rock climbing and rappelling are a good start, but will prove to be inefficient, and sometimes dangerous, in an aquatic or semi-aquatic canyon environment.
Like many aspects of life, the best way to mitigate risk is by obtaining appropriate knowledge and skills.
You could learn from a friend who learned from a friend who learned from watching a video or reading posts on an internet forum — the blind being led by the myopic. As long as nothing goes wrong everything will be fine, but not knowing what you don't know is perhaps the most dangerous position to be in.
After accumulating a bit of experience people can be lulled into a false sense of security, but there is a difference between "experienced" and "competent". Just because nothing has gone wrong (yet) does not mean it can't – or won't.

Your best option …
We recommend you pursue progressive levels of training from a guide or instructor certified by Canyon Guides International.
The CGI-certified professionals listed in our Member Directory come from many different backgrounds, but one thing unites them all – their passion for our sport and their desire to provide you with the best possible canyoneering experience and training.
Our certified professionals have undergone rigorous training and assessment that meets and exceeds international standards.
For you as a consumer, CGI certification provides a decisive tool for choosing the right person for your needs and objectives.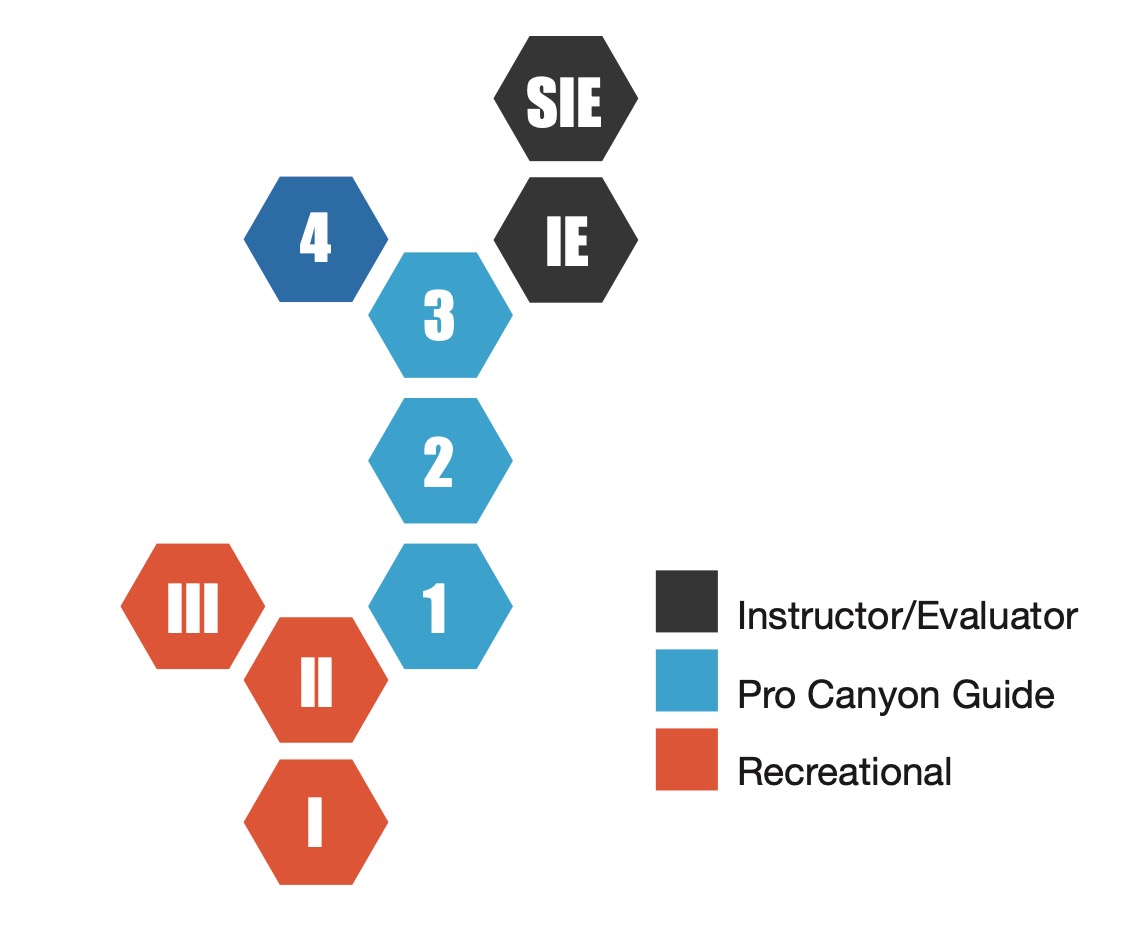 CGI Training Curriculum
The foundation of CGI's training and certification programs began in 1999 when CGI founder, Rich Carlson, started the American Canyoneering Association.
The ACA established a standard training curriculum, developed by three of the most experienced canyoneers on the planet – Rich Carlson, Dave Black and Charly Oliver. Canyon Guides International has built its curriculum on that foundation with three comprehensive tracks – Recreational, Pro Canyon Guide, and Instructor/Evaluator.
The recreational curriculum follows a series of Skills Checklists and represents the most comprehensive technical training available, designed to enhance safety, efficiency and enjoyment for canyoneers of all experience levels.
Level I - Technical Canyoneering
Level I provides students with the basic personal canyoneering skills needed to descend easy canyons as team members with competent leaders and mentors.
Level II - Advanced Canyoneering
Level II provides students with the intermediate anchor, rigging and on-rope skills needed to become contributing team members with competent leaders and mentors.
Level III - Canyon Leader
Level III provides students with the advanced rigging skills needed to become effective problem-solvers and leaders for a team of canyoneers.