Your Path to Professional Certification
Recognizing that knowledge and skills acquired from a variety of sources should be encouraged and rewarded.
There is no shortage of certification schemes for canyon guides offered by various organizations around the world. Some are quite good, but most expect an aspiring guide to complete a series of courses only with that organization.
There is nothing wrong with that, except that the best guides typically acquire their knowledge and skills from a variety of sources, both formal and informal.






Teaching canyoneering skills to others involves more than technical competence. Effective instructors must be good communicators who use an array of teaching strategies to accommodate students' learning styles. Instructor Development Courses for Instructor/Evaluator certification are available as an add-on for CGI certified guides, Level 2 and higher.


CGI's accreditation program has been developed for guiding programs, schools and services that offer canyoneering instruction and/or guided canyoneering. Accreditation provides a consistent standard for judging the reliability and professionalism of a canyoneering service by ensuring it conforms to industry standards, conducts ongoing guide training and promotes ethical business practices.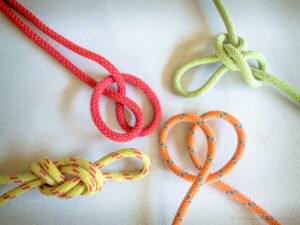 During the few years that I have spent as a canyoneering instructor, I have been able to gather some observations regarding teaching how to tie knots:
Read More »