Choose Your Path to Certification
All credible professions require formal training and proof of competency. The profession of guiding is no different and there are a number of established training and certification organizations throughout the world for canyon guides.
Most organizations require certification candidates to receive all of their training from that organization.
We believe there is significant value for aspiring guides in acquiring knowledge and skills from more than one organization.
The real value of certification is in proving technical knowledge and competence, which can be accomplished through our unique assessment process, regardless of where or how you acquired the knowledge and skills.
CGI offers three paths to certification. Choose the path that fits best with your circumstances:
Training and Assessment
For individuals who are working towards acquiring the skills needed for certification we encourage you to find a reputable training organization near you or contact us for recommendations.
Assessment Challenge
For individuals who feel they have already acquired the necessary skills (through any combination of formal and informal sources), assessments conducted by CGI provide another option for you to prove your competency and receive an internationally recognized certification. There are no training prerequisites for challenging an assessment.
Recognition of Current Certification
For individuals who already hold current certification from another recognized organization, you may apply for CGI certification of an equivalent level.
Regardless of the path you choose, the goal is to insure the investment you made in your training and certification is recognized everywhere you wish to work. Certification indicates to prospective employers, clients and students that you have been assessed to the standard of an internationally recognized, professional body.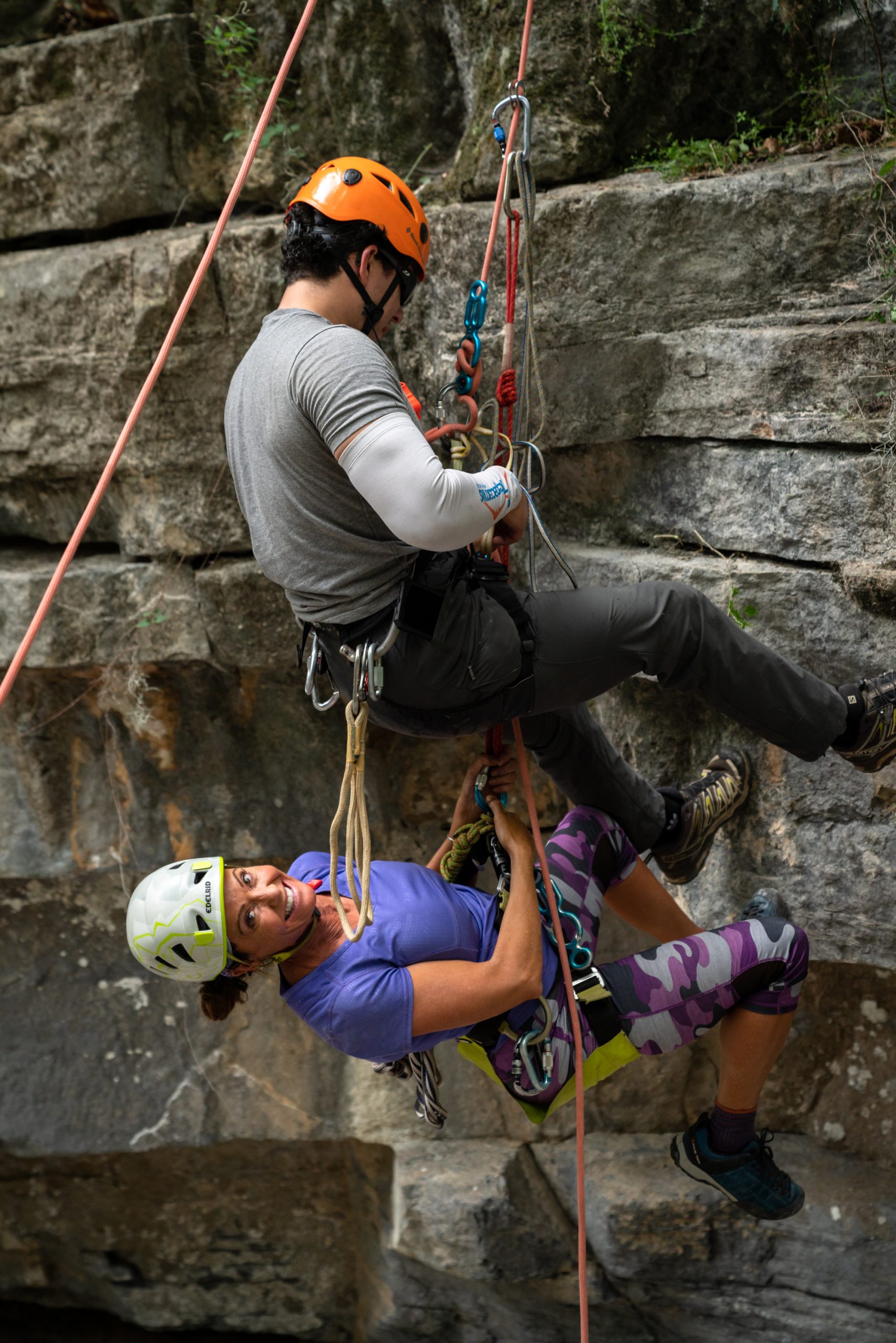 Canyon Guides International (CGI) is known and respected for its exceptional training and leadership that benefits new and experienced guides alike. CGI provides a great combination of verification of experience, online exams and hands-on assessments.
While I enjoy guiding and teaching, my favorite part of what I do is witnessing the joy my clients and students experience their first time descending a canyon.
CGI has allowed me to enjoy all of it! I'm proud to be a member, guide and instructor of such a great organization.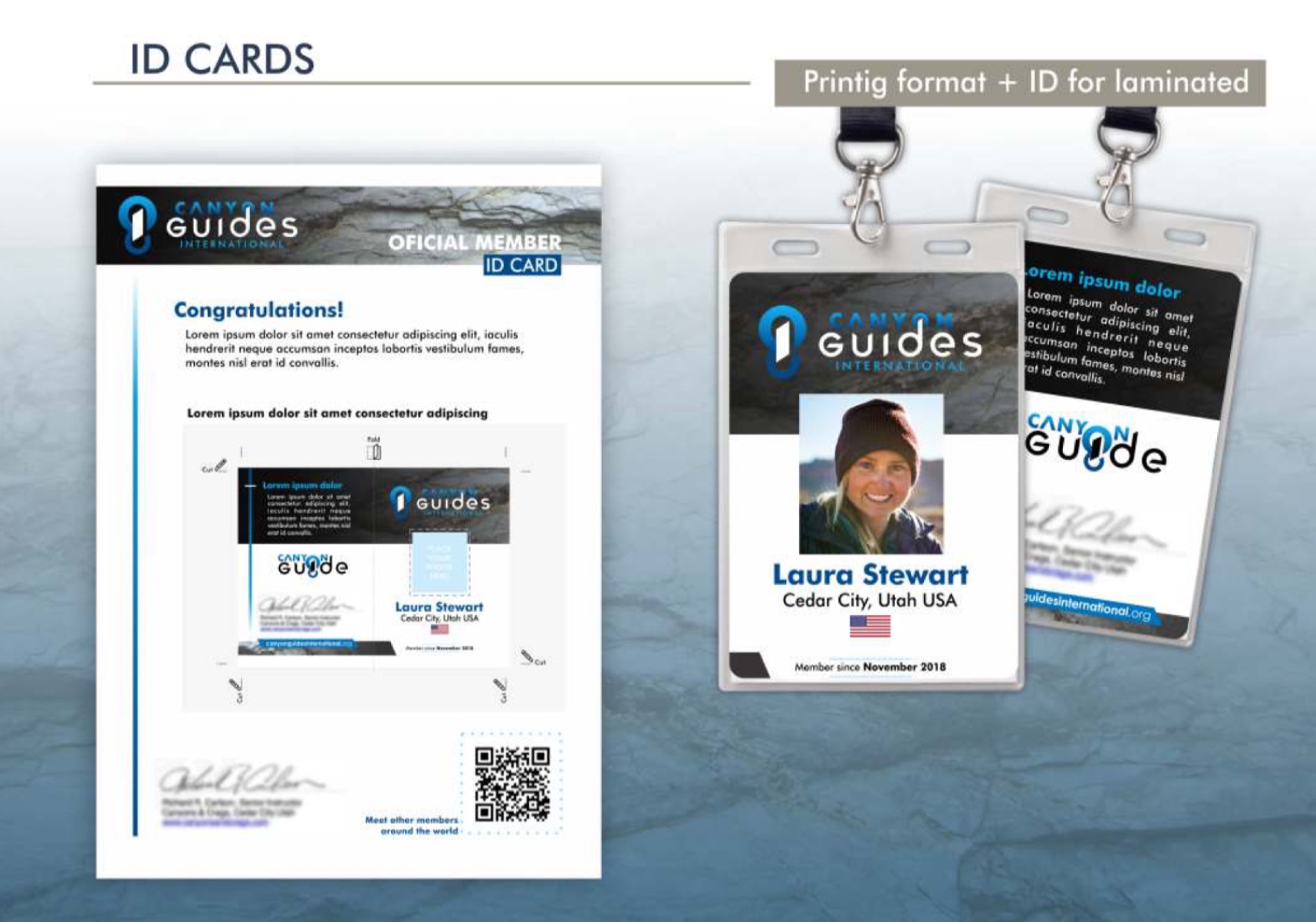 Certification – Step by Step
ASPIRING GUIDES — Start by getting out and descending canyons. Lots of canyons. The key to becoming a canyoneering guide is to become accomplished in the sport. Seek instruction from reputable instructors and guides. Seek out mentors. Talk to canyon guides. Observe them in the canyons. Check out their gear, their interactions with clients, and the techniques they use that differ from recreational canyoneers. No matter what your skill level is now, there is a big difference between canyoneering recreationally and guiding professionally. To be a pro, learn from a pro.
STEP 1 - Become a Member
NOTE: Certification is not required for Membership, but Membership is required for Certification.
NOTE: Be sure to create a member profile on our website and keep it current. Reviewing your profile will be part of the application process. Your profile also provides an opportunity for you to present yourself and your services to potential clients who visit our website.
You will see a direct link to your profile only when you are logged in to the website.
STEP 2 - Submit Your Application
There is a link to the online Guide Application form in the Certification Checklist.
Upon receipt of your application CGI will assign you to an Advisor who will review your formal training, experience and existing credentials and make recommendations to put you on the most efficient path toward completing your requirements for certification.
STEP 3 - Complete the Requirements
Use the Certification Checklist and guidance from your Advisor to complete all of the requirements for certification, including:
online knowledge exam
hands-on skills assessments
in-canyon guiding assessments
peer reviews
Professional Canyon Guide Certification Levels
CGI offers professional certification assessments at four levels: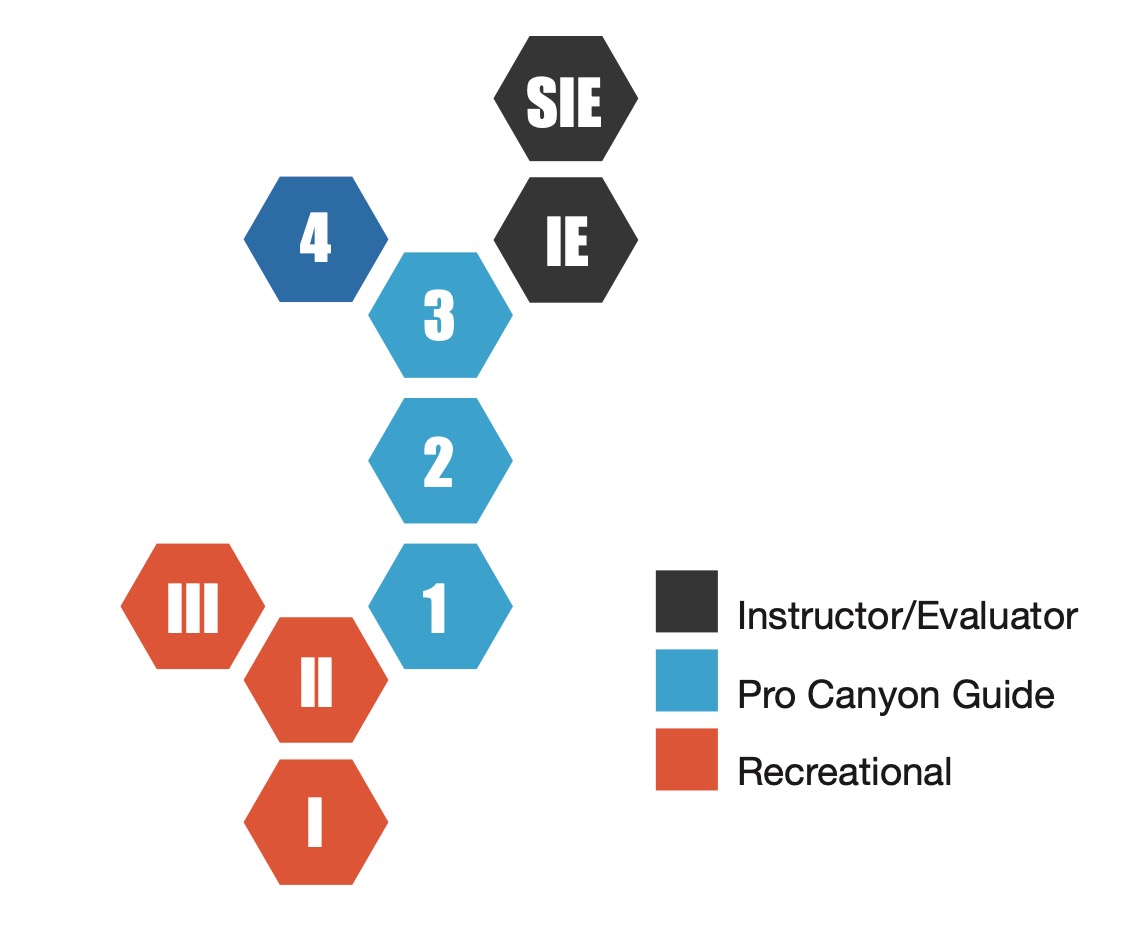 Canyon Guides International – CGI,  has a unique approach to certification. It offers various paths to certification and recognition of experience and knowledge.
This is a great program if you do not want to start from zero and your training and experience is already considerable. If you already have a certification from another organization, or you need more training, CGI offers paths for you, too.
This approach is possible thanks to CGI's founder Rich Carlson's experience canyoneering and training around the world. Different canyoneering environments, different practices and traditions, one common goal: safety through education and training.
Level 1 Aspirant Canyon Guide
This certification level is ideal for those seeking an entry-level certification as a foundation for gaining additional guiding experience working as an apprentice or assistant guide before pursuing higher levels of certification.
Level 1 Guides can be trained and certified by any CGI certified guide, Level 2 or higher.
Level 2 Fixed Site / Single Pitch Canyon Guide
Fixed Site / Single Pitch Canyon Guide is a certification available to individuals who either (a) guide fewer than three canyons that all have similar characteristics, hydrology and emergency response requirements, or (b) guide easy canyons with simple, straight-forward anchors and rigging (single-point natural anchors, bolted anchors, basic deadman anchors). It is also suitable for individuals who anticipate that a significant portion of their work will be teaching canyoneering skills in non-canyon environments such as local climbing crags.

Level 2 Guides can be trained and certified by any CGI certified guide, Level 3 or higher.
Level 3 Pro Canyon Guide
CGI certified Pro Canyon Guides are individuals who have attained and demonstrated a high level of technical competence through rigorous assessment that meets and exceeds international standards. CGI certification provides a decisive tool for choosing the right guide/instructor to help clients and students achieve their canyoneering objectives.

Level 3 Guides can only be trained and certified by CGI Certified Instructors/Evaluators who are Level 3 or higher.
Level 4 Master Canyon Guide
CGI certified Master Canyon Guides are individuals who progressed from Pro Canyon guide to attain a level of technical proficiency that represents the pinnacle of guiding excellence.

Level 4 Guides can only be certified by CGI Certified Instructors/Evaluators who are Level 4.
Our Spirit of Giving
Canyoneering Karma is a social media group and more. It is also the theme for a series of ongoing service projects and it is a mindset – using canyoneering as a vehicle for making a difference in the lives of people.
Canyons are magical places of stone and water that captivate and inspire visitors. It is common for those who experience it to realize profound changes in the way they relate to the natural world and how they choose to live their lives.
Canyon Guides International is proud to partner with Canyoneering Karma on numerous projects. We invite all of our members to join and become involved with the Canyoneering Karma Meetup Group and the Canyoneering Karma Facebook Group.
CGI Certified Guides and Instructors are welcome to post their events on both groups if the events are intended to serve populations in need or if discounts are available to individuals who provide financial support for Canyoneering Karma.